This article will show you how to complete a background check and provide proof of insurance for your Google Local Service Ads.
Step #01: Insurance
Google requires proof of insurance to complete the Google Screened process. This document can be a copy of E&O Insurance. If your insurance is under a different business name, then attach a Doing Business As (DBA) document.
Please send a copy of proof of insurance to ads@ggms.com.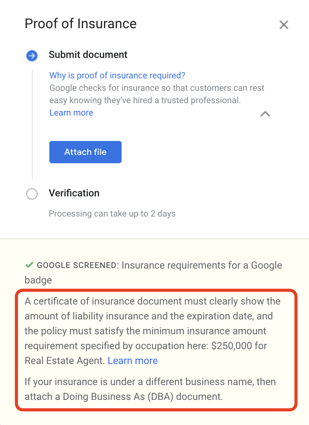 Step #02: Background Check
Local Services Ads requires background checks to help your customers rest easy. Google partners with Evident, a company that securely runs these checks, so your information is kept private.
You'll need to enter a few business details on the Evident website and add contact information for each business owner and anyone who works directly with your customers.


How to complete the background check
Complete the following steps. Please note: It may take up to 3 weeks for Google to get your background check results.
Head over to Evident's website > https://app.evidentid.com/#/v2/google-login/101155046
Log in using the Google credentials included in the email you received from us.
Complete the background check steps
Email a copy of your driver's license or ID to ads@ggms.com so we can complete the background check submission process.